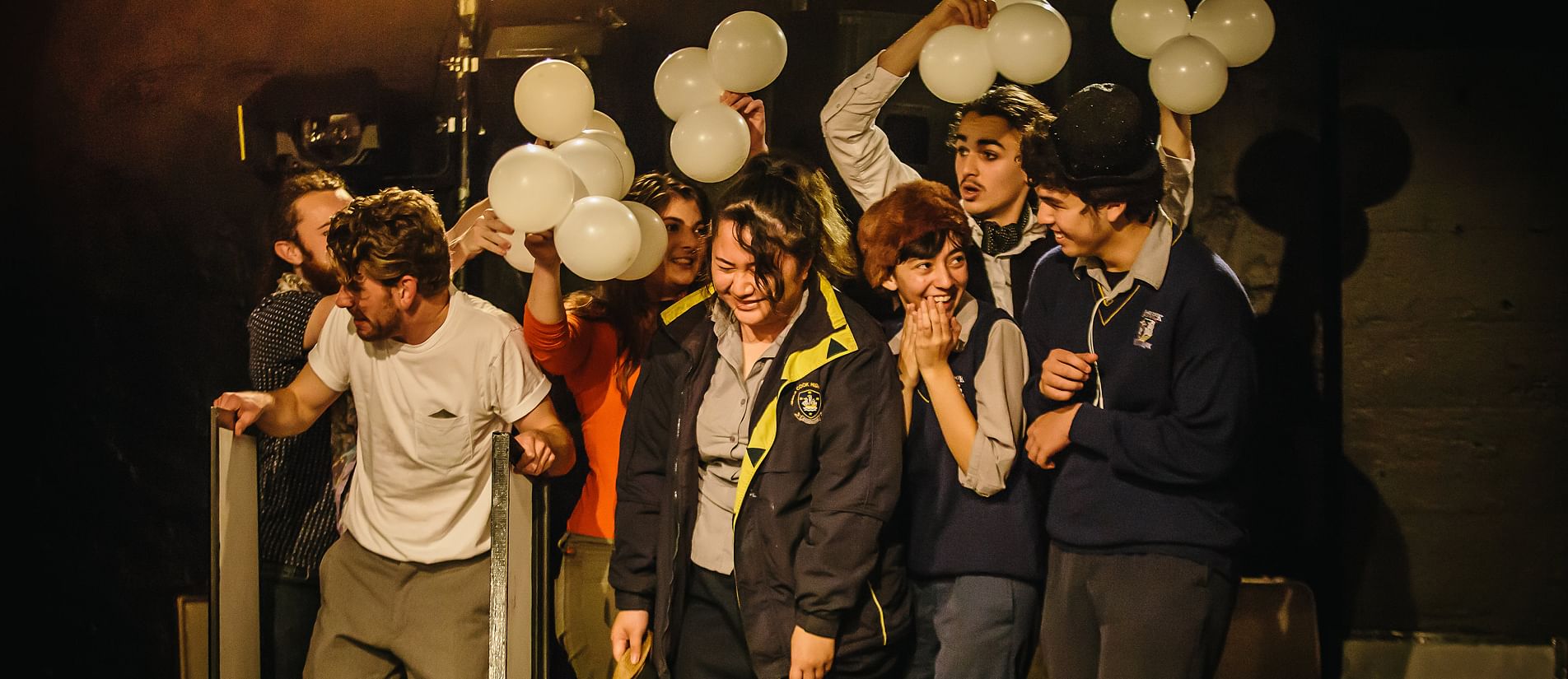 Our chosen theme for 2024 is 'Explore' to encourage discovery and creativity. We're committed to providing enriching and unique opportunities for students and educators to engage with the performing arts, please scroll down to book or view information about our school shows.
---
School Group Bookings
Student ticket prices are $15 with one complimentary teacher ticket per 20 students (for designated school shows only).
If that allocation does not allow you to adequately supervise your students please speak to us as we are flexible when it comes to getting student participation. Please contact the Box Office on 02 6962 8444 or theatre@griffith.nsw.gov.au for more information.
We also have some general public shows (evening shows) listed as part of our education program, but these shows do not have a designated school performance. We're offering high school students a special ticket price of $15 to these specified evening shows. These tickets can only be purchased through the Box Office and the students must be able to produce a student ID if asked.
---

Education Information
Keep up to date with all the education activities available for your students.
---
2024 School Shows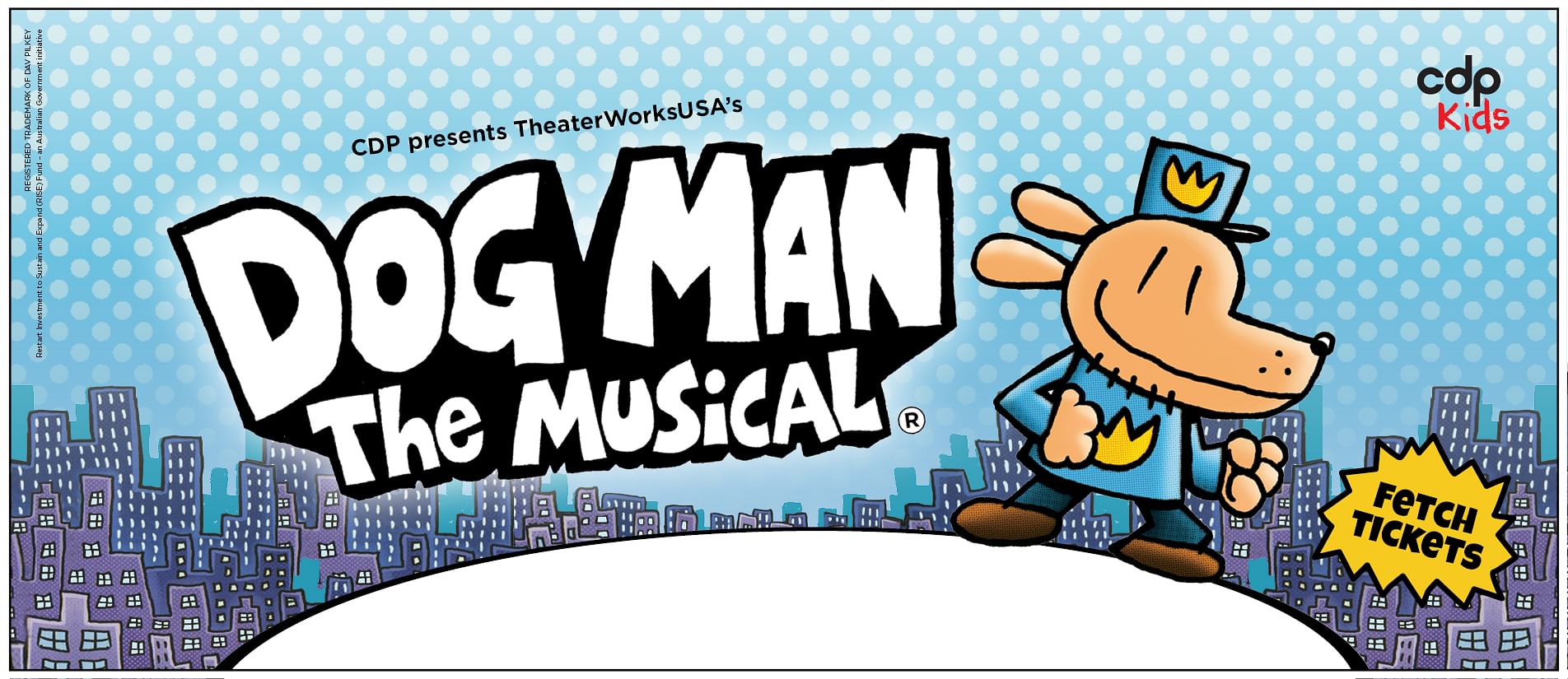 Dog Man The Musical
Wednesday 6 March 10am & 12:45pm | Stages 1, 2 & 3
Duration: 65 minutes
Adapted from the DOG MAN series of books by Dav Pilkey!
With the head of a dog and the body of a policeman, Dog Man loves to fight crime and chew on the furniture.
But while trying his best to be a good boy, can he save the city from Flippy the cyborg fish and his army of Beasty Buildings? Can he catch Petey, the world's most evil cat, who has cloned himself to exact revenge on the doggy do-gooder? And will George and Harold finish their show before lunchtime??
Find out in this epic musical adventure featuring the hilarity and heart of Dav Pilkey's beloved characters.
"This show is perfect for everyone." – Newsday
Resource: Full Teacher Resource Kit will be available via CDP Education.
---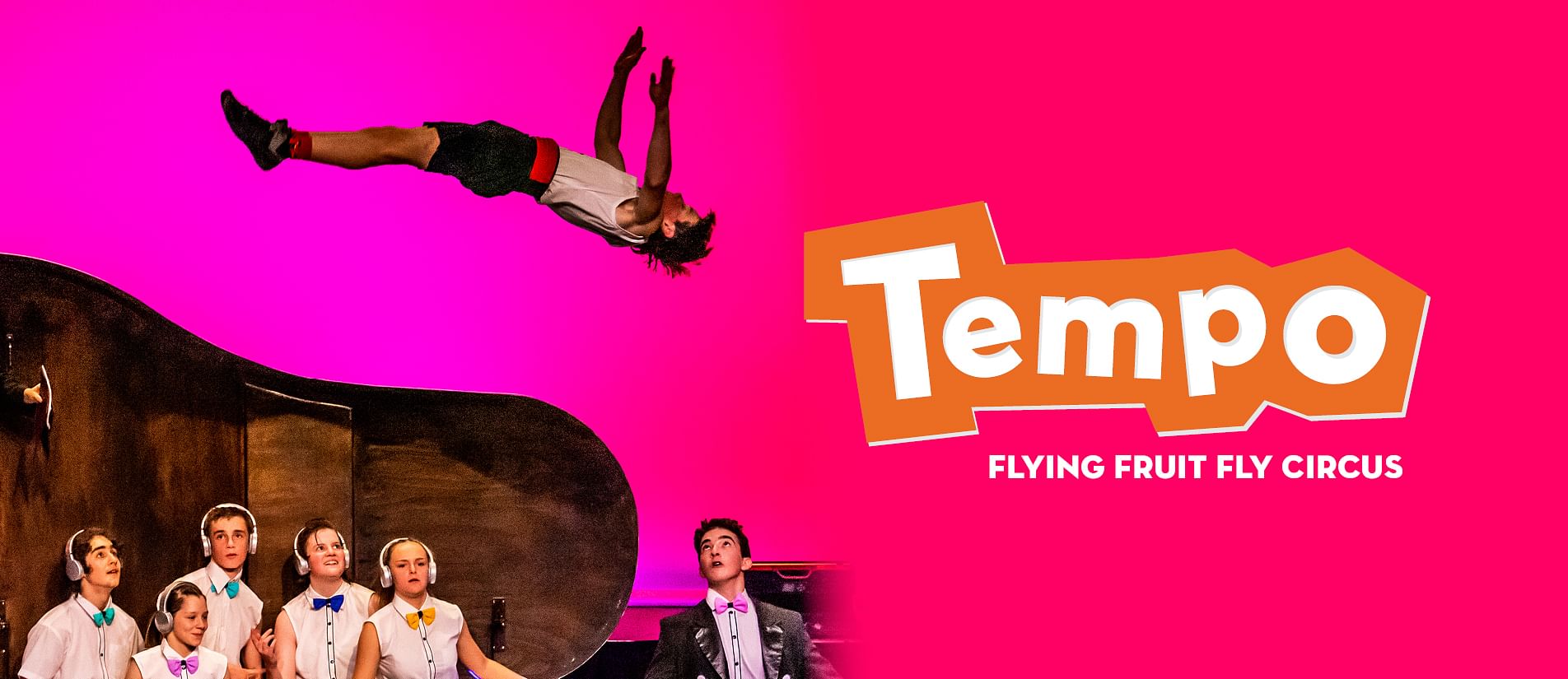 Tempo by Flying Fruit Fly Circus
Wednesday 10 April 10:30am | Stages 1, 2, 3 & 4
Duration: 55 minutes + Q&A
When the orchestra hasn't shown up and the audience is waiting, call the Flying Fruit Fly Circus!
A highly distinguished musician has arrived to conduct their latest symphony, but the orchestra is nowhere to be found. Fortunately, the Fruities are ready to save the day! And create chaos with the concert grand piano…
Directed by Jake Silvestro with an original score by Ania Reynolds, Tempo features an extraordinary ensemble of young performers aged between 12 and 18 who not only possess dazzling circus skills but also play instruments!
Shifting between striking aerial acts and highly choreographed acrobatic chaos, Tempo draws heavily on the traditional knockabout humour of the Flying Fruit Fly Circus – a trademark of the company over many years. Magic, slapstick, juggling, balancing, acrobatics and aerials tumble in, out and around the concert grand piano.
With no dialogue and plenty of gasp-inducing action, Tempo appeals to every age
Engagement: Post show Q&A

---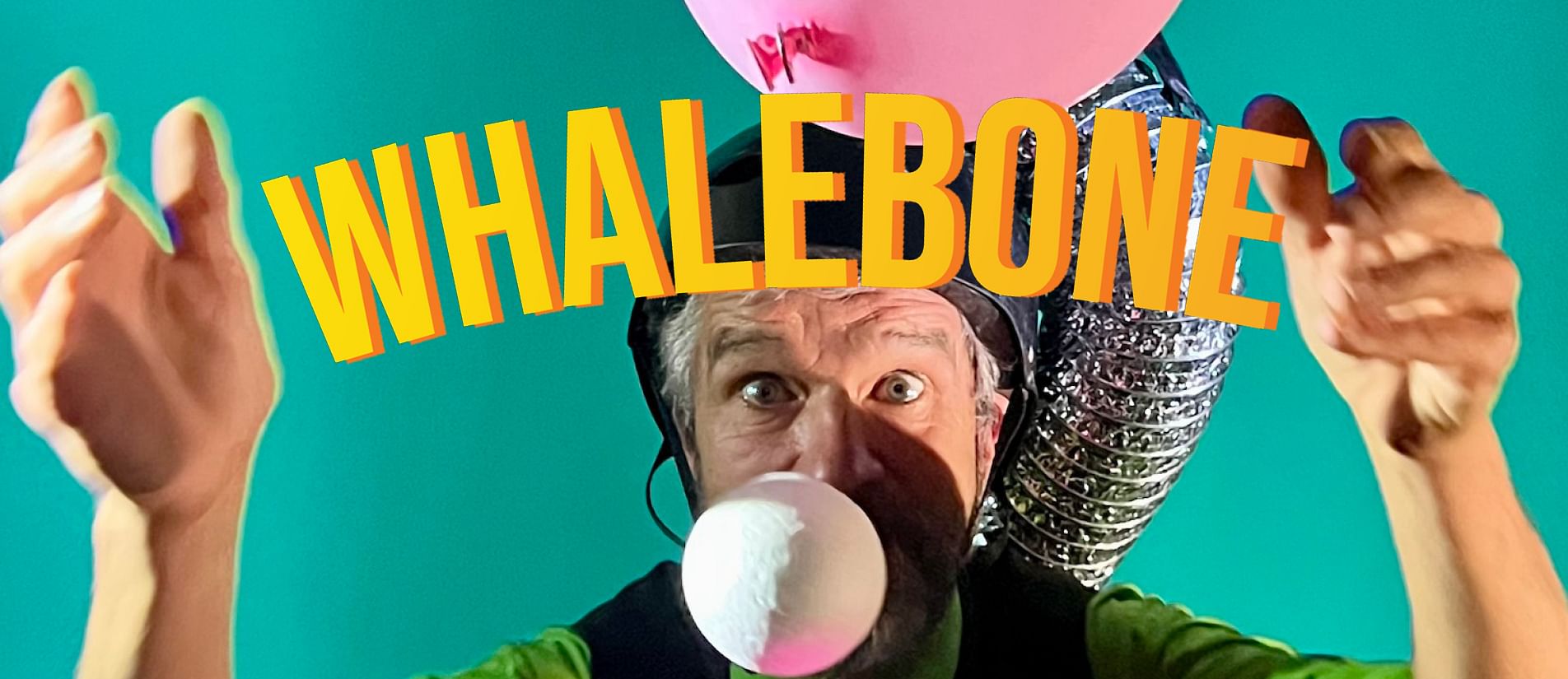 Whalebone
Wednesday 15 May 10am | Stages 1, 2, 3 & 4
Duration: 60 minutes + Q&A
Can we save our stories when the robots arrive?
Featuring dazzling video and computer animations, flying objects and a pinch of circus, this richly visual theatrical experience takes kids and adults alike on a roller-coaster ride filled with eccentric contraptions, strange machinery and clunky inventions, including the world's first half-human juggling machine!
Whalebone will inspire the minds of young aspiring inventors, as well as everyone who loves stories, surprises and wonders, and leave audiences pondering what role technology plays in our lives and just what it is that makes us humans human.
Engagement: Post show Q&A
---
The Peasant Prince
Tuesday 17 September 10am & 12:30pm | Stages 1, 2 & 3 (Years 2-6)
Duration: 60 minutes + Q&A
Monkey Baa is thrilled to announce the return of its award-winning production The Peasant Prince.
The children's version of Li Cunxin's iconic autobiography, Mao's Last Dancer, The Peasant Prince is the remarkable true story of a 10-year-old peasant boy's journey from impoverished rural China to the international dance scene. This is a story of courage, resilience and unwavering hope.
"You have your secret dreams. Follow them. Make them come true." - From The Peasant Prince by Li Cunxin
Please note: This show contains themes of racism & simulated violence.
Resource: Curriculum Links and Resources will be available in early 2024
(The below trailer is from the 2016 tour and is a reference only. The 2024 tour will have a new cast and assets).
---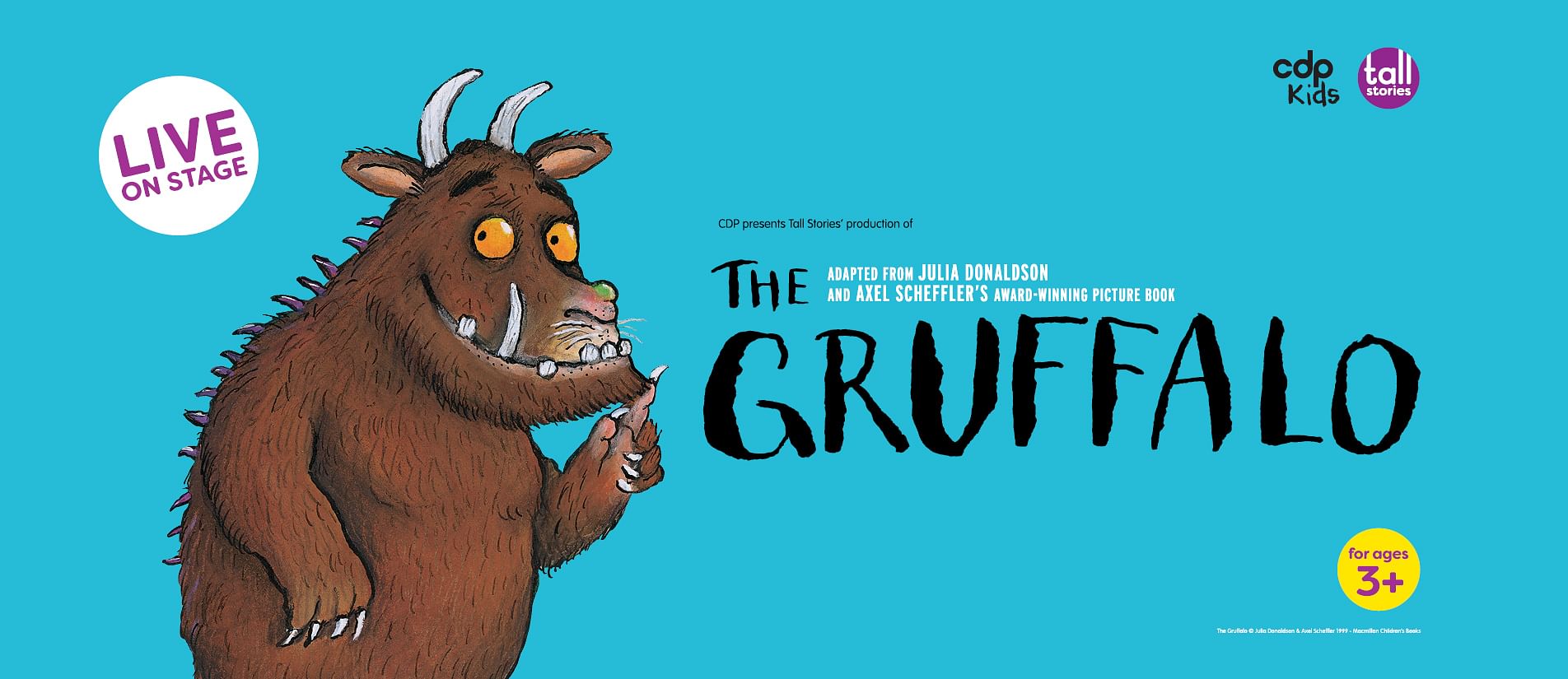 The Gruffalo
Monday 4 November 10am & 12:30pm | Foundation/Early & Stage 1-3
Duration: 55 minutes + Q&A
A mouse took a stroll through the deep, dark wood...
After sell-out seasons across the world, including London's West End & Broadway, The Gruffalo returns to Australia!
Join Mouse on a daring adventure through the deep, dark wood in this magical, musical adaptation of the classic picture book by Julia Donaldson and Axel Scheffler.
Searching for hazelnuts, Mouse meets the cunning Fox, the eccentric old Owl and the party mad Snake. Will the story of the terrifying Gruffalo save Mouse from ending up as dinner for these hungry woodland creatures? After all, there's no such thing as a Gruffalo – is there?
Songs, laughs and scary fun for children aged 3+ and their grown-ups.
Engagement: Post show Q&A
Resource: Full Teacher Resource Kit will be available via CDP Education.
---
Keep an eye out for these amazing shows
Can't get to the school shows? Tell your students to come to the theatre!
High School students can contact the Box Office for a special $15 ticket to the below evening shows!
These $15 high school tickets can only be purchased through the Box Office and the students must be able to produce a student ID if asked.
Curriculum Links and Resources for these shows are available on request.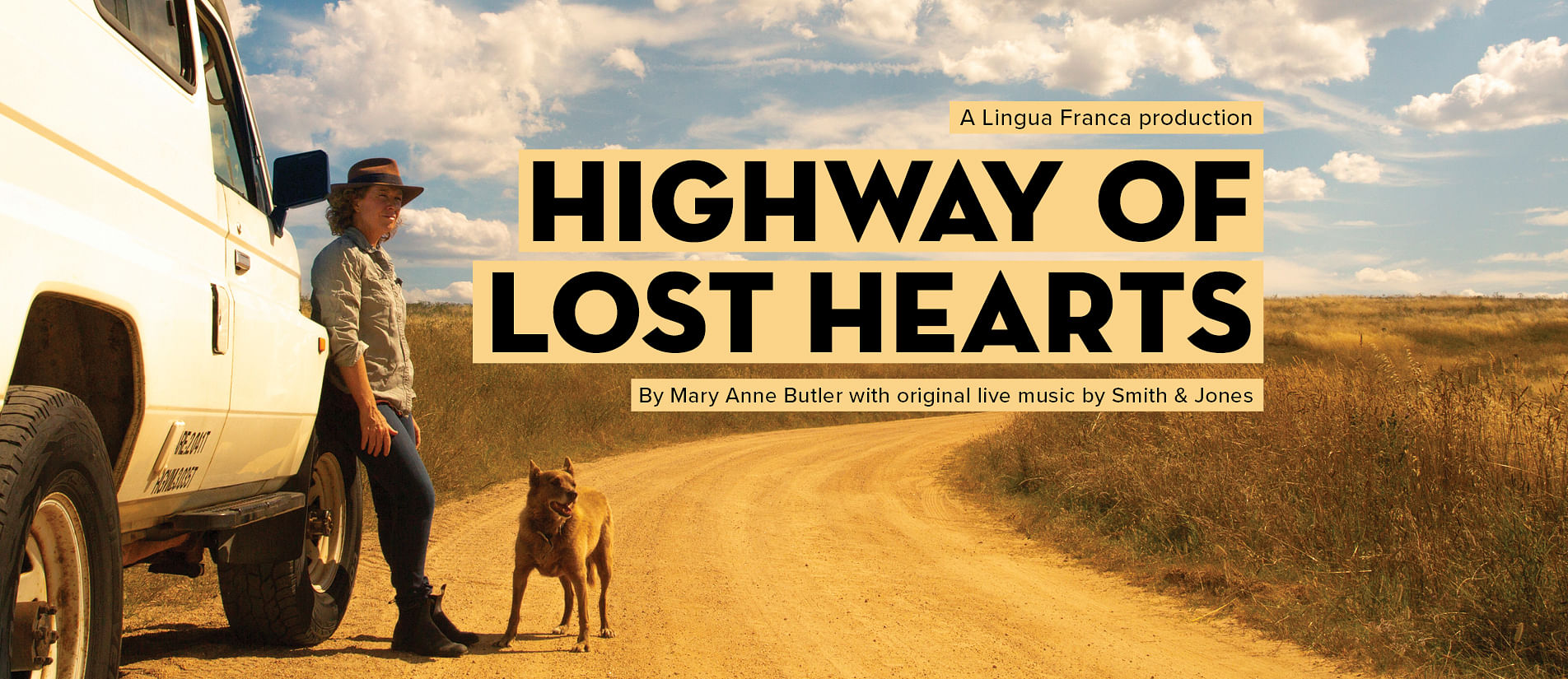 Highway of Lost Hearts
Wednesday 29 May 7:30pm | Suitable For: Ages 12 + (Stages 5 & 6)
A woman. A dog. A campervan. And 4,500kms of wide open road.
Mot wakes up one morning to find that her heart is missing from her chest. She can breathe; she has a pulse—but she feels… nothing. So, she decides to go and look for it. With her dog enlisted as co-pilot, Mot heads down the Highway of Lost Hearts: into the deepest core of the Australian outback.
This is an Australian play that celebrates regional women. Half gritty road journey, half magic realism and all heart with a powerful solo performance by actor Kate Smith.
Bathurst's Lingua Franca, in collaboration with BMEC, present this truly regional story, in a brand-new production produced by an all-regional team, with original live music by Central West icons Smith & Jones.
Duration: 70 minutes + Q&A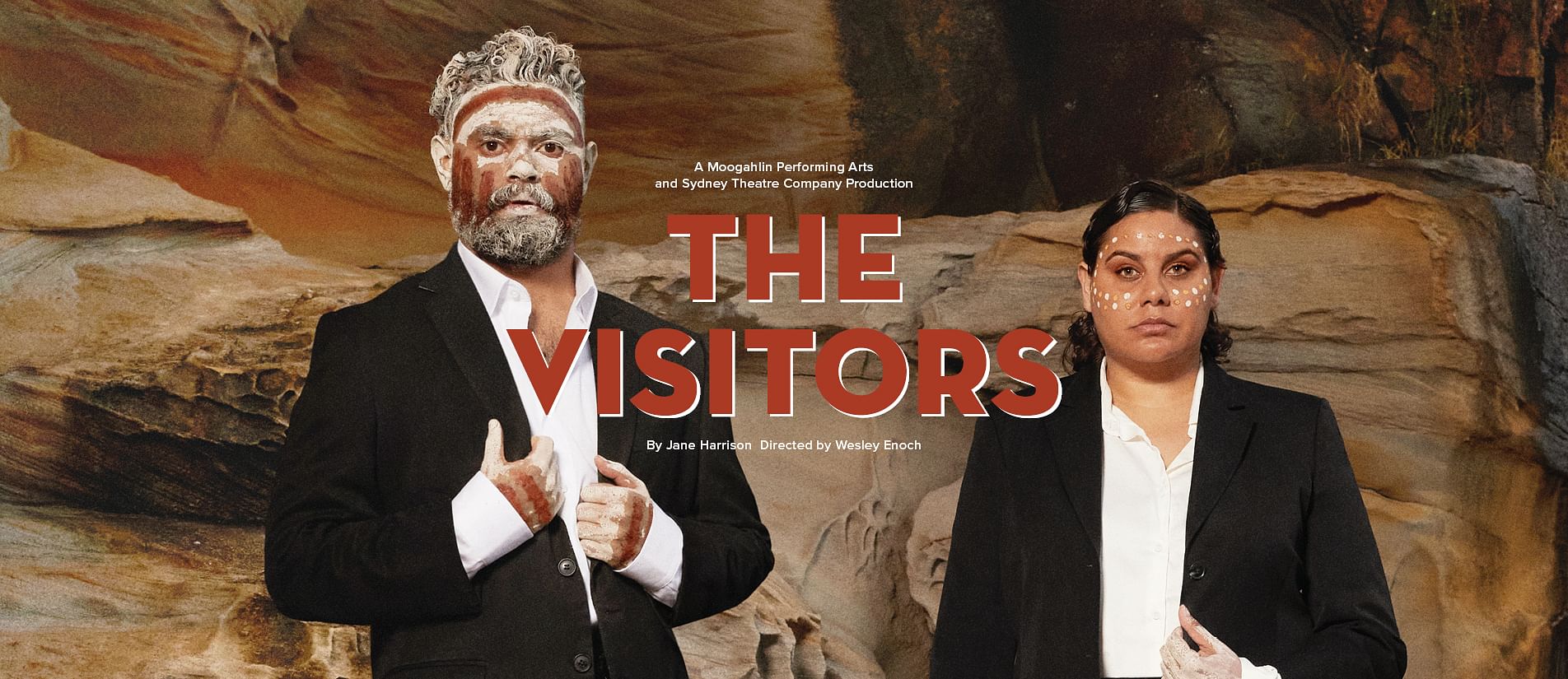 The Visitors
By Jane Harrison, Directed by Wesley Enoch
Thursday 15 August 7:30pm | Suitable For: Ages 12 + (Stages 5 & 6)
Visitors leave. Right?
On a sweltering day in January 1788, seven clan leaders gather on a sandstone escarpment overlooking the harbour. The attendees, six of them Elders and one new initiate, catch-up, laugh together, share a meal and compare notes. But beyond the friendly banter, protocols, and hospitality, a momentous decision is waiting to be made.
A mysterious fleet of giant nawi is amassing in the harbour and as they creep closer, these seven representatives must choose unanimously: whether to send these strangers on their way or welcome them?
Co-produced by Moogahlin Performing Arts and Sydney Theatre Company, The Visitors is at once a riveting, deeply researched insight into one of the most impactful and painful days in Australia's history, and a hugely entertaining study of how communities respond to change and the unknown.
Duration: 75 minutes plus Q&A
Please note: This show contains coarse language, themes of racial violence, and intergenerational trauma.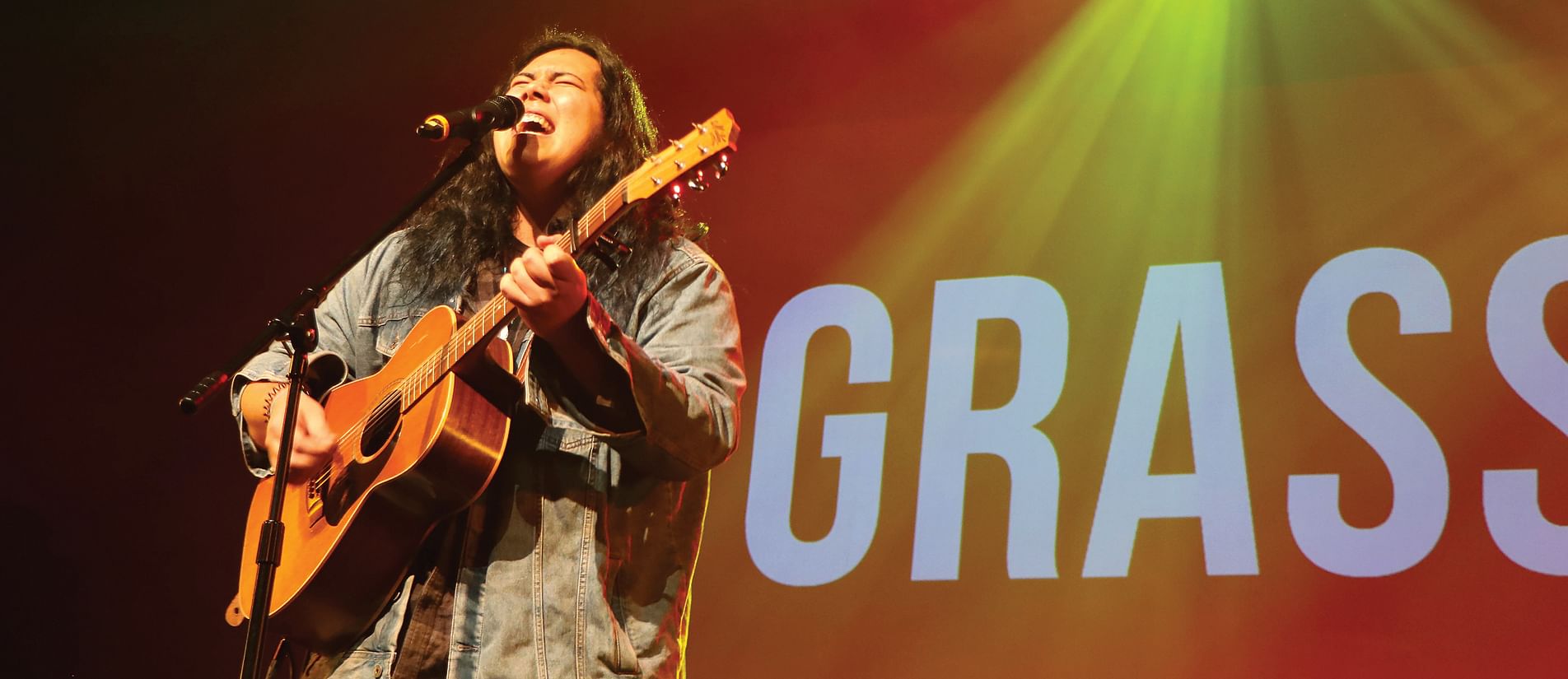 Grass Roots Under 30s Open Mic Competition
Sunday 4 August 2pm | All Ages
Musical opportunity for young performers
Enjoy live music and support young performers as they compete on stage. If your students would like to enter the competition, please tell them to contact the Theatre for details.
Entry to perform is free, but participants will need to register. Tickets to view the event are $10.
Please visit our website closer to the event date for details on prizes and performers.
---
1)
One complimentary (1) ticket for every twenty (20) students is provided for accompanying teachers for shows during school hours. If that allocation does not allow you to adequately supervise your students please speak directly with box office staff. Additional teacher tickets can be purchased at student price. For evening performances, one (1) teacher per twenty (20) students can purchase a ticket at the student price of $15. Other teachers will be invoiced at full ticket price. (Note: Advance purchase price per person available up to 2 weeks prior to performance).
2)
Please email the completed form to theatre@griffith.nsw.gov.au
On receipt of this booking form the theatre will send notification that your booking has been registered and will send an invoice.
3)
Seating will be allocated in order of receipt of this booking form. While all attempts will be made to seat your group together some separation may be required. If you have any special seating requirements (wheelchair access, no stairs, access to hearing loop) please speak directly with box office staff.
4)
We will be offering a small subsidy to schools outside of the Griffith LGA to assist offset the transport costs to attend each of these schools shows. This will be provided as a discount on the ticket price per student. Please see the following page for subsidies.
Subsidies for schools outside of Griffith LGA – 2024
For Schools within 50 km of Griffith (but outside Griffith LGA only): $1.00 per student
For schools between 50 – 150km from Griffith: $2.00 per student
For schools 150km + from Griffith: $3.00 per student.
(Calculations of distance in kilometres are taken from Google Maps – for clarification of the distance of your school, please contact the Box Office)
Subsidies will be calculated by Griffith Regional Theatre and applied to the invoice that is sent to the school. Note: Subsidy not applied to teacher tickets.

5) Thank you for your interest in participating in Griffith Regional Theatre's Education Program. Following receipt of your booking form, an invoice will be issued, based on the numbers provided. Please process this invoice as soon as possible to confirm your booking. As there is a high demand for our education programs, often exceeding available seating, we require final numbers and payment two months prior to the show date. Any changes in student numbers must be finalised before this date, and a new invoice will be issued. Additional seats requested, will be subject to availability.

If payment is not received by the due date, we will contact you to confirm details and arrange immediate payment. Failure to complete payment at this time may risk a booking being cancelled, particularly if the show is heavily subscribed. Where a booking is received within two months of the show, payment must be made within 7 days of booking. For bookings made within seven days of the performance, payment must be made at the time of booking. Thank you for your understanding.